'TOMORROW' official movie trailer.
(in cinemas September 27th 2019!)
'PLAN Z' OFFICIAL MOVIE TRAILER .
(signed DVD's available to purchase - drop us a message!)
some still shots and rare behind the scenes images of life on a movie set with Eugene.
'TAKING ONE ON THE CHIN FROM THE RAGING BULL & ROCKY'!
Celebrating the World Premiere of 'Grudge Match'in NYC with the legendary Robert De Niro & Sylvester Stallone. I'll be forever grateful to both men for the time and guidance offered to me.
'THE GREATEST OF ALL TIME'
I shook the hand that shook the world! Meeting Muhammad Ali was one of the most incredible experiences of my life.
For full story, visit: https://www.eugenehoran.com/new-blog/
'SHARING A STAGE WITH AL PACINO'.
There is a fine line between bravery & stupidity but the legendary Al Pacino was a great sport when I delivered an impression of him in front of one thousand people. "It takes some balls to do an impression of me in front of me, kid... You got balls, I like that! You're good, real good!" What a moment!
For full story, visit: https://www.eugenehoran.com/new-blog/
15 years old meeting the one and only George Best. I later went on to have the incredible honour of producing a video tribute to George in 2010, which played at the Grand Opera house, in the presence of George's family, close friends and former team mates. You can also read a full page tribute I had published in the book, 'George Best will not be playing today'.
I used to stay up until the early hours of the following morning to watch Iron Mike Tyson in action. I was always captivated by him. I still shake my head at the fact I have now met Mike 4 times. This picture was our second meeting in Manchester.
Discussing the iconic film Raging Bull with the legend himself, Bob revealed something I never knew before... During the editing process, director Martin Scorsese showed the fight footage to the real Raging Bull Jake Lamotta and although he loved De Niro's uncanny portrayal of him, he pointed out one inaccuracy - "I never wore red gloves"... And so it was decided, rather than reshoot all of the fight scenes again, the entire film would be changed to black & white.
Some wonderfully kind words by the hugely talented Sean Bean.
The legendary Sugar Ray Leonard. World champion at FIVE different weight categories. A thorough gentleman and born entertainer, in and out of the ring!
'CELEBRATING 26 GLORIOUS YEARS'
As a lifelong Manchester United fan, Sir Alex Ferguson took the Manchester United managerial job when I was just 4 years old. What an honour it was to share his last ever 'Player of the Year' awards at Old Trafford in May 2013.
The Nortorious Conor McGregor has got my back. This picture was taken after I had a portrait painting of Conor signed and sold at auction. It was that night that Conor revealed to a 5,000 capacity audience that he was 'close' to agreeing a deal to fight Floyd Mayweather Jnr & that he and his partner Dee were expecting a baby boy.
World champion boxer Steve 'Celtic Warrior' Collins has fought and beat the best in the business. A two time world champion turned actor, Steve and I shared a scene together where he was to knock me out. I'll take it as a compliment that I hit the ground so hard & convincingly that Steve thought he actually connected and quickly jumped in with, "Oh shit son, you OK?" I must be the only opponent to ever get an apology from him!
FUN FACT: This particular photo was taken backstage after I performed my impression of Al Pacino. Steve did have his hand up in the star studded audience to ask Pacino a question but later confessed to me, "After your impression, I took my hand back down and thought, 'How the f@#k do I follow that'?"
With my great friend Ken Ruffley and Manchester United's legendary captain Bryan Robson. Robbo shared many great stories with us that night and treated us like family.
FUN FACT: Did you know, David Beckham used to have the job of cleaning Robson's boots when he first joined United.
Larry Holmes is a true legend of boxing. A former heavyweight champion of the world, Holmes had 75 professional fights, 69 wins & 44 by K.O! He was one of a rare few to share a ring with both Muhammad Ali & Mike Tyson. It was a real pleasure to meet him. He was only too happy to talk boxing and pose for this traesured photograph.
No footballer on the planet, past or present has ever won more silverware than Ryan Giggs.
29 years at one club... you don't hear that very often nowadays! I've had the pleasure to meeting Ryan several times but this particular photo was taken at the 2013 Manchester United Player of the Year awards.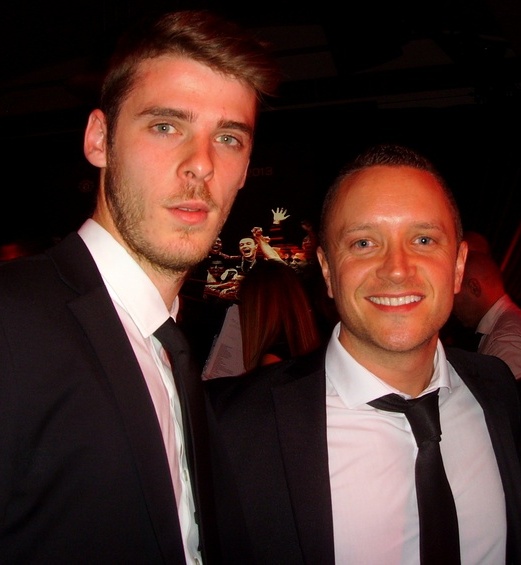 With the greatest goalkeeper on the planet, Manchester United and Spain number one - David De Gea.
You'll go a long way to find three nicer guys than the Spanish contingent of Manchester United - David De Gea, Juan Mata & Ander Herrera.
Juan Mata has won everything the beautiful game has to offer and I had the great honour of being his invited guest at the Theatre of Dreams for the F.A Cup 3rd round victory over Reading. I spent time with his beautiful family and he even surprised me with the shirt that he wore (and scored in) during game. A thorough gentleman and kindness beyond words. Muchas gracias amigo!